First of all to make this software work u MUST have real player installed on your computer. If you don't have it here is the software install link.
http://sharebee.com/668f7af9
For u have installed real player or u already had it go to step 2. Install Barotv on your pc.
http://sharebee.com/8ab4bda0
after u install it open the program and a page like this should open up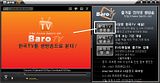 Click on the first Button. After u have clicked a page with all of the channels that are avaliable should appear. Just click on the channel u want and thats it.
I will allow comments on this post in case some pplo need more help.